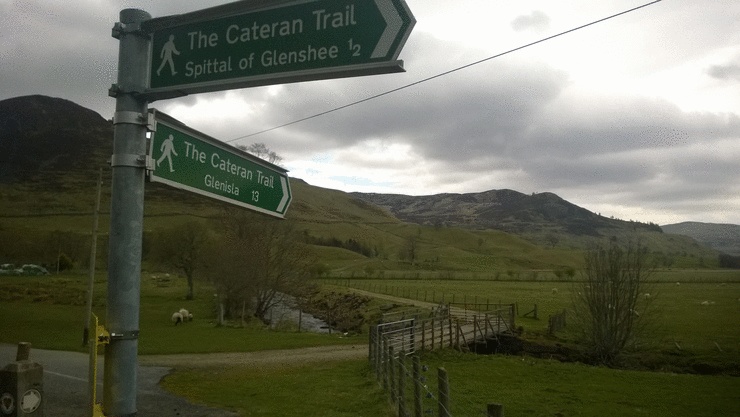 Cateran 55: Saturday, 07:00. I travelled up on Friday, arriving in time to catch the start of the Cateran 110. The 55 is one large clockwise loop starting and finishing at Spittal of Glenshee, and the 110 is two loops, but the first one being anti-clockwise, starting at 4pm and going through the night.
The 110 guys are crazy.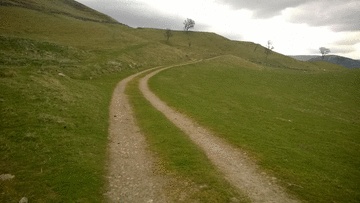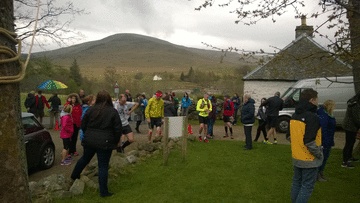 I woke up to a lovely morning, a little chilly. Coffee and bacon+egg rolls (top notch) and some nervous waiting.
My goals for the race were modest. Without any decent distance put in this year, low general mileage, no back to back long runs, I had a 50k race as well as London, one more marathon-distance run and some regular runs of 15-20 miles. So I was pretty sure the wheels would come off at some point, particularly how I felt at the marathon/50k. The goal was to go out, enjoy the route, take some pictures, try some things and not worry. To not get injured, and get in a training run for the SDW.
If I'm honest I had the number 10 in my head, 10 hours (because it's a round number in the right range), and top 10. But no splits worked out, no plan. Just go with the flow.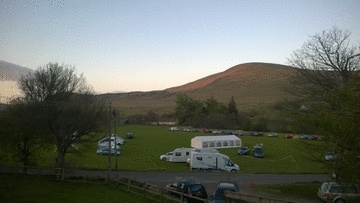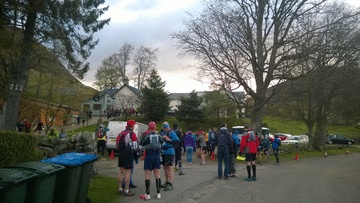 At last we were off. I found myself at the back of a group of about 8 as we started off up a good track, and over some fields. Starting a little briskly, this group soon opened up a gap from those behind. I got chatting to Andy, who was familiar with the route and would prove most useful, saving time and energy by keeping us right. We agreed we wanted to ease off, though it's easy to get drawn into following the next runner ahead.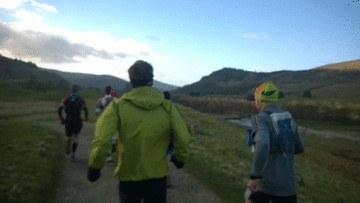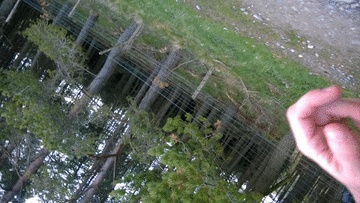 (My camera skills may leave something to be desired.)
After some road running into the 1st checkpoint at Dalnagair we were running with Abi, with a group of 3 in sight in front, and another few off ahead. A little more road running, our first climb up some good tracks, and soon we were in Glenisla.
I had no drop bag in Glenisla, so filled my water and moved out. No sooner was I alone, than I was confused in following a diversion from the official route, as I seemed to be deposited on a track with no signage when I thought I might have missed a turn up the hill. As I consulted my map I was joined by Abi, and we moved on and spotted a route sign sending us uphill. Shortly after we heard shouts calling us back down, as it turned out we were about to follow in reverse the very loop which the diversion was meant to cut out…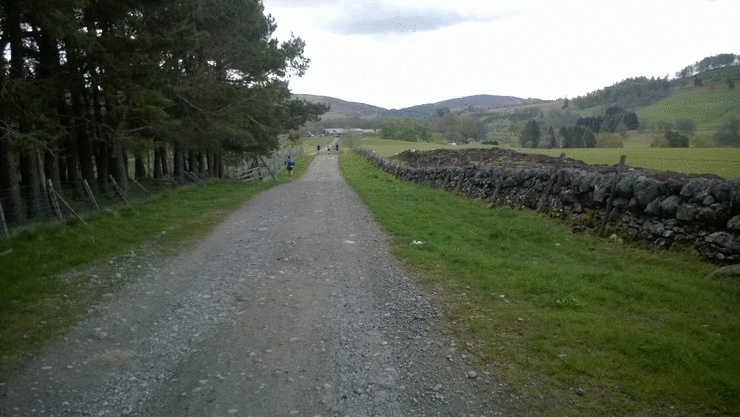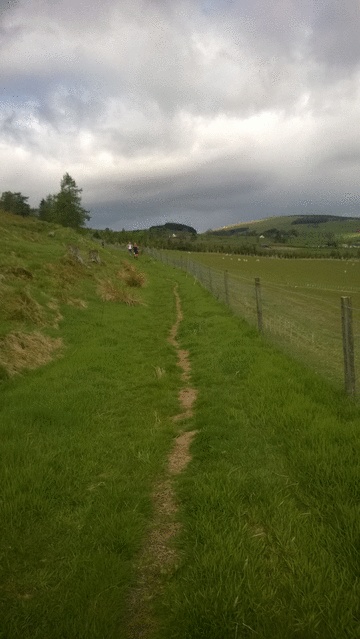 So after that I was running with Andy, Antony and Allan for a while, rather companionably. Still feeling good at this point (though variably), having to remind myself not to run up hills. A few times I found myself drifting off the front of the group unintentionally, and on one of these occasions shortly before Alyth I found myself alone. I expected to see the guys behind going past at some point, but I was just running at the pace that feels natural.
Alyth was my first drop bag, and I loaded up on a few Chia and Nakd bars. These were successful in terms of a low-fuss strategy of not faffing about with drop bag food but less successful in terms of being able to stomach them. I think a more varied approach of real food earlier and gels later maybe.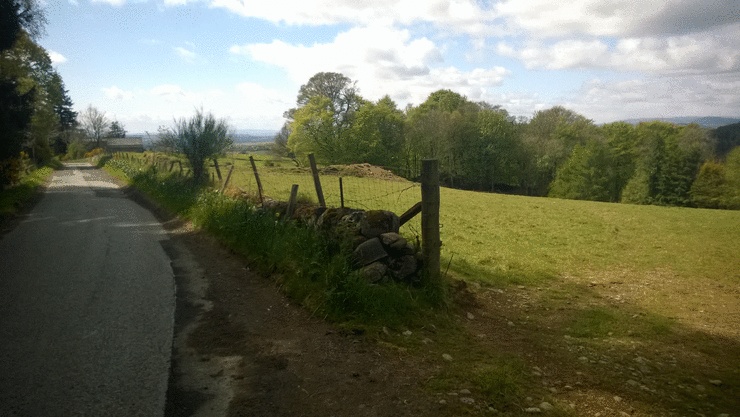 I found the Den of Alyth pretty (wooded riverside trails) but started to notice some fatigue here. Out of the woods though there was some easy climbing on road to give the excuse to walk up and recover. Then quite a bit of road running in to Blairgowrie, big road descent.
I'm losing chunks of recollection now. Walking up a road climb out of Blairgowrie…walking up a forest track out of Bridge of Cally…
By Bridge of Cally I was fairly done. I arrived at the checkpoint as Olly was leaving, and left as Abi was arriving. Out of the checkpoint was a long easy climb on forest track through the trees. Olly I could keep more or less at a fixed distance ahead while walking the hill, with the occasional run interval. However Abi behind had been looking strong running up every hill of the race while the rest of us might be walking, so I wasn't surprised to see her pass me and Olly, and didn't expect to catch sight again.
I caught up with Olly for a while, and had a bit of a chat, but by this time I was really starting to struggle to run consistently. I noticed Olly had a consistent running pace, slow and steady at this point, while I kept fading to a walk on the slightest incline, and then picking up into a run again, giving the same average pace but probably much less efficiently. I mumbled a farewell as I sat down to attend to a foot issue that turned out to be a non-issue (though my toes are blistered as expected).
The remainder of my run into Enochdhu was a trial, as I was struggling to run consistently over the rough ground. Passed by Antony, who we'd been running with earlier and went on to a strong finish for 3rd.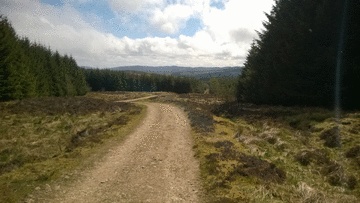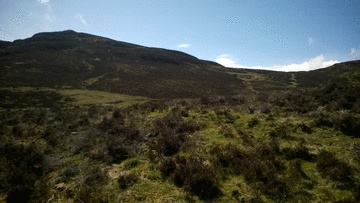 Mentally it was easier from Enochdhu back to the finish. There was a bunch of climbing to do, but I didn't care for time, so I didn't mind that I was walking the runnable gradient track, barely running where it levelled out. It was nearly the finish and I was nearly there, I'd walk as fast as I could and run where I should but neither head nor legs had much there.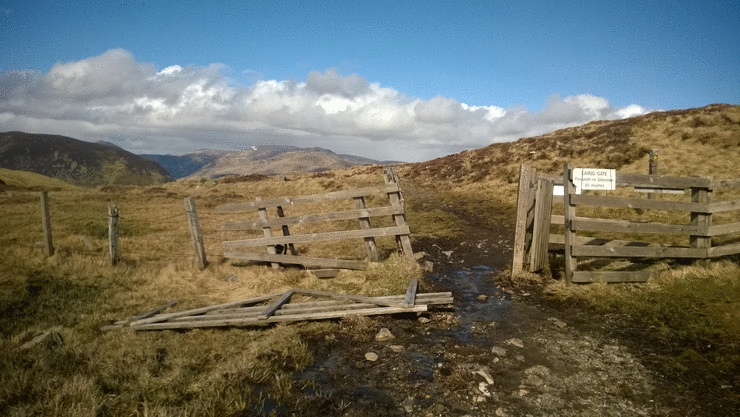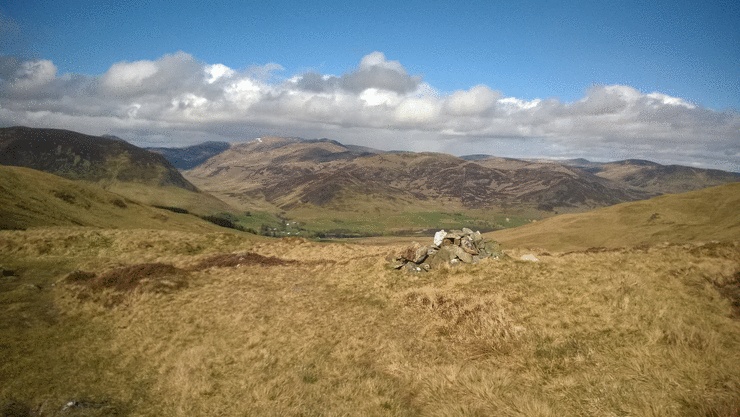 I was happy to see the final summit and the sight of the finish down below. As I started down I was joined by Andy who had been chasing hard up hill as I feebly wandered up, and after exchanging a few words he went flying down the hill. I tried to follow as fast as I could, my legs would still run what felt like fast downhill with no need to actually propel forwards, but I struggled to focus clearly. It took conscious effort to clear the vision on the ground ahead and coordinate myself to travel in a non head-first fashion downhill. All the same, after 55 miles it was a great downhill finish and most rewarding to run through the finish gantry.
I finished 7th in 9:33:24.
Postscript
The weekend was great fun. The atmosphere was really positive: my first dip into the Scottish ultra scene, while it seemed like everybody knew everybody it was nothing but welcoming. Great organisation Some good chat on the run and over beers after. Good route, easier underfoot and more runnable than I was expecting.
Hopefully this should be a good training run for the SDW100, I feel like I might have a chance to complete it now.