Recovering after a hard week. The effects took a while to come on, I felt pretty bad, but it all came out OK in the end.
Track Tuesday
Monday I took off from running completely, doing very little as it was a bank holiday. I wondered how the Tuesday track session would go after a marathon-distance run on Sunday, and the race on Saturday. I was consoled by the fact that Colin was going to be in the same post-marathon position, until I realised he was off in the sun.
The session went decently enough, a mile (1600) time trial in 5:14 followed by 10x400. I guess I was pushing quite hard, certainly the 1600 was all out.
Jogged home from the track for the first time in a while. Weather has taken a turn for the stunningly nice and sunny this week.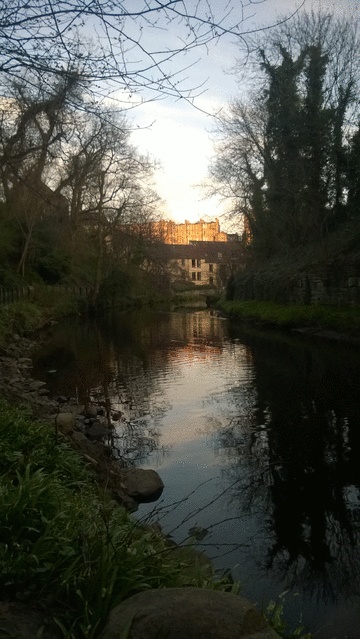 Woeful Wednesday
I'd expect the legs to be tired after a track session, even until Thursday night. So my Wednesday post-work run was to be an easy run in the general Portobello direction.
Rarely have I felt so bad. Never mind tired legs, I had tired mind, body, soul. There was nothing, I felt drained, negative. Start, stop. Feel the urge to cry. I was stopped in a side street with my phone out trying to plot the shortest way home when a large EAC group went the other way. Just wanted to hide, to walk home, to disappear.
Not sure if it was the long run on Sunday, the race on Saturday, the high mileage week, the Tuesday track session. Or maybe I just needed an afternoon snack to get me through the day.
And the rest
After that horrible run on Wednesday I knew I needed to back off. Thursday I only had a short jog home from work and Friday I did nothing (other than walking).
I decided to do something different and visit Kirkcaldy parkrun for the Saturday morning. Struggled to wake up so a coffee on the train over and some tunes were employed to try and reach some level of consciousness.
Was interesting to run Kirkcaldy instead of the Edinburgh behemoth. The run is in it's 9th week and attracting a hundred and something people. Two laps around Beveridge park with an additional loop around the pond on the second lap. I went out after a Carnegie runner and was shortly joined by a 3rd, who eventually moved forward. I felt sluggish and didn't want to go to hard in light of the race on Sunday, but tried to keep the other runner in sight through the end of the first lap.
On the 2nd lap by the pond I moved in front and started to pull away. No idea what pace I might be running as I was watchless. Legs felt still very much lacking when tackling the hill for the 2nd time, but felt good running down the hill and finish straight (for 1st finisher in 17:59).
The verdict: friendly and well organised - particularly the course marking was good, cones out at all the path forks not to be taken as well as the direction markers, and cheery marshalls.
Had a nice cooldown jog down the Fife Coastal Path to Kinghorn.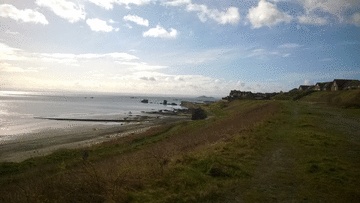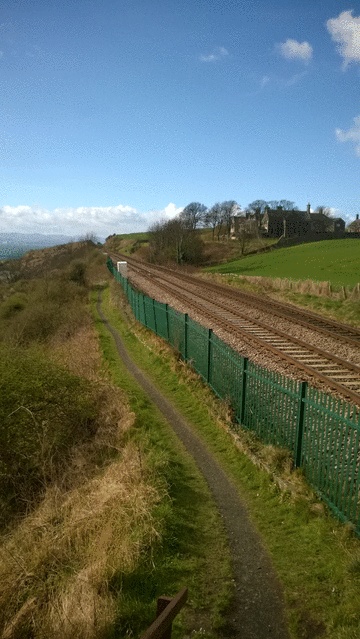 Grangemouth 10k
I said after Dunbar I hoped to go sub-35 for Grangemouth the next week, based on how that went.
I was worried I may have taken something out of the legs at parkrun for the race that mattered. Worried just from the way I felt during the week. But as I jogged down from Polmont train station and noticed that (albeit downhill) the super easy pace was quicker than expected, I thought maybe it was on.
I started out maybe slightly further back than I should have been, but quickly was moving through the field gradually. In my experience I start slow, and a lot of people start out fast for the first k and fade away. Anyhow there comes a point where it's no longer moving forward and just staying more or less in position. I latched onto a Corstorphine runner and stayed there for a while.
By 4km it already seemed like hard work. At 5km (per course marking) I looked at my watch and saw 17:08, faster than I've ran for 5k this year. I was breathing hard, it was hard work, but seemed sustainable.
I found myself in a group of 4 for a good part of the race, back and forth with 2 yellow vests of Central and Metro Aberdeen (and one in dark colours I didn't really clock). By 6k I was struggling, I wasn't racing but just attempting to hold on. But pacing by those around me, concentrating on form and the perception that this was an easy steady pace, I was able to push on.
The last couple of k of the race is a never-ending out and back, never quite clear how far remains, around a corner and a cone, followed by a path around the back of the stadium onto the running track for the finish. An anonymous back alley without spectators to see you slow… I thought I pulled out a decent finish on the track given how I was just hanging on, but then was passed on the line.
34:38 (chip) and 4th counter for a team 2nd prize… Results.
Seems my tired patch forced me to take it easy and taper for the race.