Track weather is tougher than the trail
A week of some hard running but no races. Just 3 key runs and not much more on top of it:
Tuesday: Track
Thursday: Post work long run (slowish 29k)
Sunday: Standard long run (35k)
Tuesday Track Trial
Tuesday was meant to be my 1st session back at the track this year. I might have been in 2 minds as I wasn't sure I wanted to risk running anything faster than tempo pace, and the weather looked like it might be a bit dodgy. The streets were ice on the morning as I gingerly walked to work in the morning, and the day unfolded with some cold wind and drizzle. However, I'd arranged to pick up some kit there, so I was committed.
Turns out maybe we should have been. I arrived at the track wearing shorts, long sleeved top and running jacket, technically non waterproof. It immediately became obvious nobody else thought shorts were a good idea.
The skies opened a bit, sadly on the wet sleety side of snow, and stayed open. The wind blew, and continued to blow. And I had what was one of the toughest track sessions I'd had. Comparable to a hard effort after running 50k on the Sunday. Not because my heart was beating out of my chest or my legs were burning, but because every recovery I felt like I'd never be warm again.
I was glad to run hard and feel warm. In fact the running was good, I felt surprisingly good. And you had to laugh, like when we set off on a 400m interval and on the 1st bend the wind gusted and blew people out to lane 3…
Jacket and top wet through, wind cutting, I was glad to have a change of kit even before going home.
Thursday: 7 Hills, 1 Moon
I'm not entirely sure what sparked it off, but I had a creeping desire through the week to go run the 7 hills route after work by headtorch. The idea was to join the standard route of the 7 Hills of Edinburgh Race from my work, proceeding directly to Corstorphine hill and then round clockwise until reaching Calton hill, when I would continue to head home.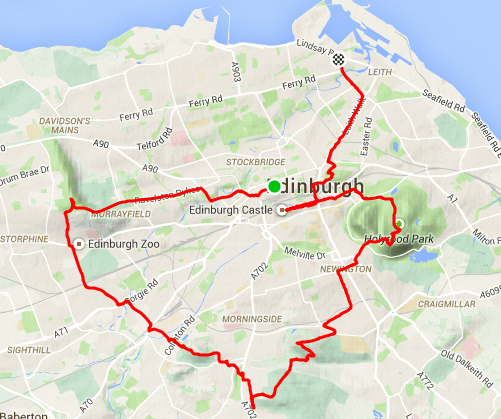 Having run a track session on Tuesday this made Thursday the ideal day, and the weather seemed reasonable - by this point the temperature had soared to high single digits, though it was rather windy. The plan was to get an early start at work and head out at 5, but in the end I left about quarter past six.
As in the race there's a good bit of road running out to Corstorphine Hill, and between that and Craiglockhart hill, which went on auto-pilot. At Craiglockhart I decided to test my skills at route-finding by torchlight, and tried the direct climb up the slope up the back of the sports center. It turns out, it's not so good, and when I found myself on some dodgy ground I contemplated having to bum-slide down a dirt bank that seemed steeper looking down than it had looking up. Sorry, execute retreat via the means of a seated-glissade. In any case I found the right route and proceeded up the hill.

That was the first error, the 2nd came as I ran right past the entrance to the Braid hill path in the dark. Despite the rookie mistake, I managed to take a decent line over the golf course towards the hermitage. Mindful of the earlier escapades I had no desire to take the direct line down the embankment, and took a leisurely route over the bridge and around to the top of Blackford Hill.
The run up into town became a bit tedious, but by this time it was clear I was going to make it around the route, and I started planning the best way to ensure I hit 7 hills rather than 6. It had to be to head up to the castle first, before continuing home over Calton hill. I also tried to formulate a plan to pick up some kind of food or water, having set out with none, but as I seemed to have a very small amount of money on me (as well as most shops being shut), no such plan was forthcoming.
Up into town and over to Arthur's Seat, I'd been running in a thin long sleeved top all evening despite considerable wind, but as I climbed the biggest hill I did put a jacket on. And in fact I reconsidered taking the usual route as I realised just how windy it was up there. On the summit I was clinging onto the trig point as the wind howled past. Exhilarating. And glad there was no cold edge to the wind as earlier in the week.
Up the royal mile to the castle (all nicely lit up), and back down over Calton hill and home. And quickly to neck back some water and gulp down dinner. Hard to digest after running for so long on an empty stomach.
Sunday: Long getting longer
Friday I decided I wouldn't run, and Saturday I had considered the KB5 race but combination of laziness and the effects of the previous late night persuaded me otherwise. So I definitely wanted to make up for it with a decent long Sunday run, at a decent pace.
I was literally falling asleep on the bus over to Craiglochart sports center where the group convenes, so I was a little unsure what my legs would do. To cut a long story short, I had a decent run, what I perceived as a good solid pace (and may have been easy pace for others), and was able to continue back home for a respectable 35k at 4:20/k (about 6:55).
2 longest runs of the year so far have been this week. I'd call that a win.