Year in Review 2: PB Hunt
I'm not sure when it happened, but it was clear at the start of 2014 that I was taking running a little more seriously and getting generally faster. My stated goal was ultra-marathons but I was training more, longer long runs but also greater overall volume and adding in speed work. I decided I wanted to set a PB at every distance - that is, every 'standard' distance which I had run before.
This eventually led to the title of this blog, as I found myself training for a 100 mile race (which admittedly does not appear on the below list) yet setting what I think was a respectable 1 mile PB.
Since I had a particular focus of setting PBs across all distances, and in 2014 have clearly been in the shape of my life (and not from a standing start in either regard), I was delighted to be awarded with the Edinburgh AC trophy for most improved athlete.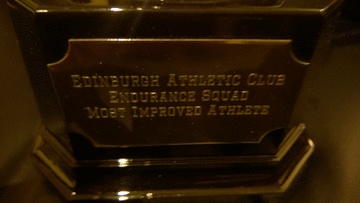 | Distance | Time | Race | Pre-2014 PB | Previous Race |
| --- | --- | --- | --- | --- |
| 1M | 4:57 (4:54) | Self Transcendence 1 Mile (relay leg) | 5:05 | Same |
| 2M | 10:37 | Self Transcendence 2 Mile | 11:01 | Same (2012) |
| 5K | 16:27 | Self Transcendence 5k (meadows) | 17:16 | Edinburgh parkrun (11/13) |
| 4M | 21:59 | Portabello Promathon | 22:48 | Same (1/13) |
| 5M | 28:06 | Glasgow University 5 | 31:22 | KB5 (2/07) |
| 10K | 34:59 | Hawick | 36:32 | Forth Bridge (2012) |
| HM | 74:32 | Inverness HM | 82:14 | Eddie's Lochaber HM (11/12) |
| Mar | 2:43:23 | Meadows Marathon | 2:56:50 | Cologne marathon |
| 50K | 3:32:13 | Canalathon | Debut |   |
Some of those distances I ran several times in 2014, here are collected times, chronologically apart from 5K which I can't be bothered re-sorting:
5K 16:27, 16:56, 16:57, 17:03, 17:06, 17:07, 17:10, 17:13 + many 17-20
10K 36:27 Penicuik (May, 5s PB…), 34:59 Hawick, 35:53 Linlithgow (Sep)
HM 74:33, 79:44 Haddington, 78:03 Glasgow GSR
Marathon 2:43:23 Meadows, 3:10:25 London (injured), 3:04:44 Strathearn (painfully positive with lack of training), 2:52:43 Highland Perthshire Marathon