Year in Review 1: Magic Month
As I sit here in a run-free state it's time to take a look back over the year. The first defining aspect of my running year was the month of March, specifically the first 4 weekends. I was training for the Highland Fling (which eventually didn't happen for me), so scheduled in some longer training races: the Meadows Marathon, the Inverness Half Marathon, and the Canalathon 50k.
March was the 3rd of 3 really solid months of training. In January I'd stepped up and got back to doing some decent mileage with consistent long runs (~120k weeks with 35-40k every weekend). In February I joined Edinburgh AC, started doing Thursday speed sessions at the Meadows as well as keeping up decent long runs 30k+, culminating in a 50k run at the end of the month. Then March looked something like this (all pretty much untapered/training through):
Week 0: 50k training run
Week 1 2/3: Meadows Marathon
Week 2 9/3: Inverness Half Marathon
Week 3: -
Week 4 23/3: Canalathon ~50k
(Week 5+: Get injured)
Meadows Marathon
This was scheduled in as a "training race", i.e. to be a decently hard effort but not flat out. My marathon PB was 2:56:50 from Cologne in October, but feeling pretty fit I thought I might realistically run 3:00 as a training run. My nerve buckled a little on the line and I think I said I might run around in 3:10, but I had no hard and fast plans.
It's a very odd race as it's a number of laps of the meadows (14), run at the same time as the half-marathon variant, and a studenty atmosphere with a wide range of participants. As I set off I felt pretty good, seemed to be running much much quicker than intended, and quickly decided 'sod it', I'm racing, and going to go by feel and see where I end up.
The laps were ticking off well, though after 3-4 I started having sloshing stomach issues, I wasn't taking gels and pretty much stayed off water to avoid irritating my stomach more. Other than that it was all about weaving in and out slower runners, and most annoyingly the 'water aid' walkers, as time went on people could be several abreast on a narrow path (overtaking while being overtaken) forcing detours on the grass/mud.
By half way things were going well but I was well aware of my sub 4:00/km pace and wondered if I had made a stupid pacing mistake. Bold or stupid, how to tell? As usual the 3rd quarter is the hardest, while the last 4/17 laps the finish was in sight (metaphorically, otherwise every lap…). Other than maybe the 1st, the last 4 laps were I believe my fastest. As I started the last lap Adam Rouse, also of EAC exhanged a few words with me, ascertaining we were both on the last lap. With that, he shot off, I did my best to hang on but it was never going to happen. One last time up middle meadow walk onto the cobbles and finish by Bristo Square, 2:43:23 for a huge PB (Results).
There was some discussion as to whether the course was short and the inaccuracies of GPS but between the course having been measured by none other than Adrian Stott, and what I was to find of my fitness in the rest of the month, I am happy to think it wasn't. Since then I've used this as a London Championship place qualifier.
Inverness Half Marathon
I thought I remembered some mini-taper pre Inverness but my diary shows nothing, usual weekly running, Thursday session, parkrun 'sandwich' on Saturday.
I like the Inverness half, having done it once before, and returning, same accommodation, same plan.
I set off, reminding myself that a half-marathon does feel like racing at the start rather than jogging; tried to not go crazy while finding a good group to run with. There was a decently large group that fractured a little, until I found myself a few miles in a good group of 4 or so working up the gradual hill out of town. By 4 miles the course turns and feels briefly "out of town", and I already felt like it was hard work (but I had moved off the front of my little group, and caught one lone runner ahead). Between 6 and 7 miles it felt like I was already giving everything, and it was mentally quite tough to keep the pace up.
Eventually the route turns again through some housing estates, a few turns back and forth, some friendly faces that lighten the load briefly. I think it was maybe here that I passed my last runner, the 2nd female at this point.
The race turns back onto the main road to retrace itself back alongside the river, over the bridge and back down to finish on the track. By the point I was coming up to the bridge I was clear with nobody behind me and nobody near ahead (finished with 30s ahead of me and 1:40 behind). I do recall lying to myself that someone was just on my shoulder, I'm pretty sure I was aware I was lying at the time but it seemed to keep me going.
Finished in 1:14:32, and I'm still not clear why - clearly I was on peak form this time, but I still think it's one of the races I've dug deepest for longest, spent a huge amount of mental energy to push the pace to my limit. Indeed, by comparative performances (eg Age Grade%) this is still my best result, and somehow the week after my fastest marathon with no taper… May explain why it hurt.
Canalathon
Checking my diary again, it seems I did give myself a break - a weekend without a race (just parkrun and a 27k long run), Thursday session and parkrun skipped on the week of the race.
The race was 50k along the Rochdale canal from Manchester to Sowerby Bridge. The first year of the event, I knew it was going to be on towpath all the way (ie flat with good running) and not too established a field. I had a fancy I might be on for a 2nd place or so.
Marcus Scotney was the pre-race favorite, and as he immediately moved off the front I settled in behind and tried to find my own pace rather than chasing. I wanted to be fairly aggressive in pace but with a hint of caution being my first 50k, so was looking to hit a 3h/marathon pace. I wish I could say that felt easy but once I was truly alone running along random towpaths, it was a bit of an effort to keep pushing along at that same pace.
The route was quite nice, of course moving out of the city then climbing up lock by lock, past some nice mills and through the hills. You'd think it was impossible to go wrong following a canal, but I had a couple of moments of confusion on road crossings making sure I was on the right side of the canal (it switches sometimes) and one disaster. I reached a bridge and popped onto the road to cross over, once on the other side of the road I couldn't see the path down to the canal. I then wondered was it down the side street around the corner, but after investigating I realised it wasn't. Eventually I found that I must have missed a crossing over the canal earlier - and then had to wait for an opportunity to cross the now busy road. It turned out there was a tiny wooden bridge across, and a hole to sneak under the bridge along the canal…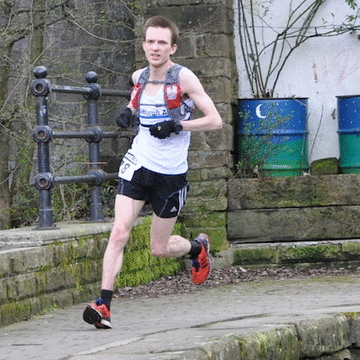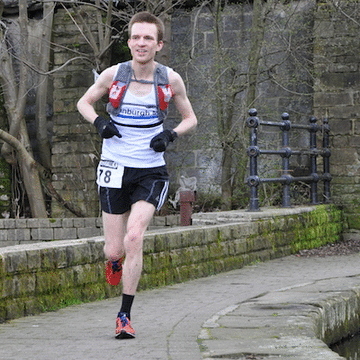 (Me a few meters from the finish © Jen R)
Hitting the marathon mark is a confidence boost, my notes tell me it was in about 2:58. Felt I was able to push myself from then on, the "home straight", particularly the last 5k.
Finished in 03:32:13, 6 minutes behind 1st and 21.5 ahead of 3rd. Results and report, blog.
Afterword
I still look back and think of this as a "magic month", 2 of my best race performances, a decent 50k and all this without cutting back training. And I really don't understand how I could run a good marathon then PB a half the next weekend, I've otherwise felt that even three weeks wasn't enough to feel fully race fit after a marathon.
The next weekend I ran a fast parkrun, then ran 2 back-to-back 25 mile days up the west highland way in preparation for the Highland Fling. Ended up putting myself completely out of commission with an ankle tendon issue, but I think that's all down to not listening to my body on that particular weekend rather than general training/racing load.