Alloa XC (or: Mud Mud Mud)
A solid week of training despite an inauspicious start; a "proper muddy" xc race to get stuck into; a bit of a failure of spirit.
Bumpy start to the week
I decided to start the week with a short run to work via Inverleith park, which was a new route for me. Running around the perimeter of the park, a bit muddy for my grip-less shoes but a change is a good as a rest as they say.
The perimeter path I'm running along crosses a dual-use path entering the park, not quite at a right angle, behind a cover of trees. After crossing a road and encountering an intersection where you don't have right of way, would you be cautious? Or would you come flying along at speed hugging the inside of a blind bend?
Oddly for a cyclist/pedestrian collision, neither of us fell over even though it wasn't just an incidental clip - in fact it was basically head on and we kind of bounced back. I was not happy.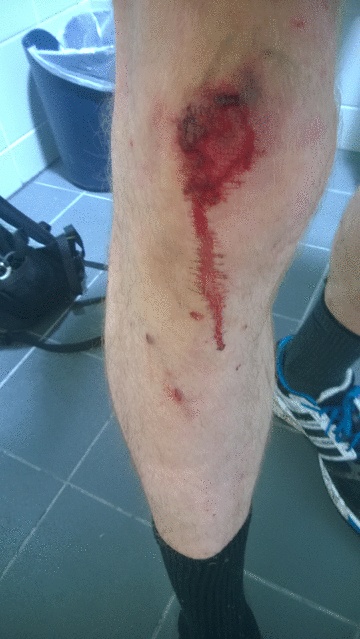 The cyclist quickly rode off leaving me standing looking at my leg and knee, cursing and trying to work out if I could even walk. Well eventually after considering a cab or seeking medical attention I made it to work at a walk, with an incidental purchase of frozen peas.
On the up
It wasn't clear on Monday whether I had anything seriously wrong, but in fact the most painful place on my calf became less painful and didn't even bruise, though my knee did start to feel a little odd.
To my surprise I made it to a track session on Tuesday, and got a good solid session done (10 x (200m+800m)). Wednesday morning reminded me how taxing it was, Wednesday night fine, Thursday session short with no after effects.
Alloa XC
Saturday afternoon at 2.15pm: Scottish East District Cross Country League at Alloa. A 3 lap course for 8-9km in total.
We arrived at the academy to an oddly empty car park, and were soon joined by a football team. Oops, wrong academy, try that again…
We arrived at the academy to find a running track encircling a field full of club tents, and the sight of boys and girls finishing their races covered head to toe in mud (and for once I don't exaggerate). There were some brown vests that started out white.
A jog around the course made it clear this was not a flat quick grassy affair. Flat mud, hilly mud, big sloppy puddles of mud…
A start that as expected was a confusing mess of elbows as the field moves from a wide start around a couple of bends across a narrow bridge and onto a narrow path through the woods. I didn't move out too fast, but was quite aggressive around the first lap moving up past people. Jump a place or two when the path widens, and slot back into single file for the narrow uphill climb. I feel sorry for the guys that I dodged past and then slipped in the mud and flailed in front of.
That worked out quite well last week at the Braids, but it seems this time I pushed a bit hard to move up the field, for the 2nd two laps were a struggle just maintaining position. Still running hard throughout, but the uphill into the quagmire seemed like I was so slow I was going backwards.
Thought I was having a hard time, but after hitting the last sharp little bump I found a sprint finish, if only in case the guy I just passed had a kick.
Sunday
Got up in plenty of time intending to head over for my regular sunday group long run. Went back to bed. Didn't run at all all day.