Linlith-GO or Linlithg-OW?
This week was the aftermath of the not ridiculously long but still quite long run on Saturday. You don't want to see my toenails.
Monday
Still feeling sprightly in the 2-day post long run period, quick evening run.
Tuesday
Since I didn't race, I decided that the taper (over-taper?) last week was marathon recovery, and it was time to get back to a standard week of training. So Tuesday was a 25k post work run (wasn't silly enough to try a speed session). Slightly round-about route home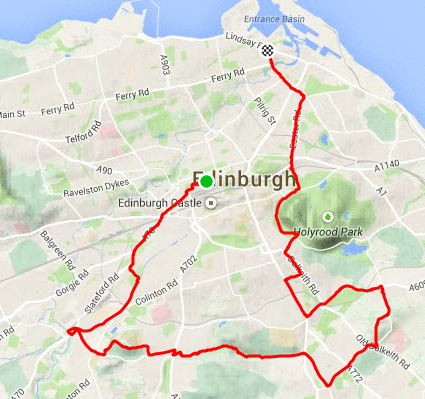 Since I was hungry on leaving work, somewhat taxing.
Wednesday
Back to doubles! Nice 15k home via Corstorphine Hill, really enjoying heading down that way.
Thursday
Run to work in the morning, Meadows session in the evening. My right ankle/heel started bothering me, it was sore before the session, felt a bit better for the first 2 reps and then started to hurt. My sort of session entirely (4 min pace, 2 min easy, 1 min hard, 1 min easy * 6) but wasn't able to enjoy it, just a bit of a strain to get through.
Friday
Almost no running. Few beers after work and a nice Thai curry before watching a film. Popped out for easy 2k at 11.30 to keep run streak alive…
Saturday
Took the bus to parkrun to take it easy a bit. Jogging down to the start my foot felt tender, but as it turns out running at decent pace was ok, around 18 mins. Forced onto the forefoot a bit more maybe.
Sunday
So this was the aforementioned Linlithgow 10k. I signed up only late on after missing the race last week, then by this weekend I was regretting it. So I didn't particularly intend to run a fast time, just go out and do it as it came.
2:30 is an awkward start time to me, it mandates an early but proper lunch and risks stomach issues accordingly. I just can't not eat (turns out today there were no repercussions). Grabbed a Steak and Stilton pasty at the station and headed to Linlithgow (also registration closing an hour before a race even though no on the day reg and it's right by the start, a little odd to me).
I went for a 10 minute jog to warm up and felt pretty terrible, could barely make 5:00/k pace and felt tender on the foot. So with mixed expectations I still lined up near the front but not on the line. It's not unusual to see people start quickly but was surprised at the number that went off at a fairly quick pace (with maybe one or two off the front).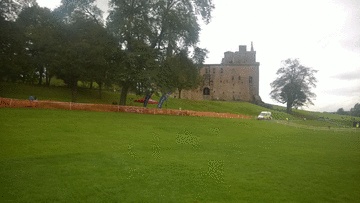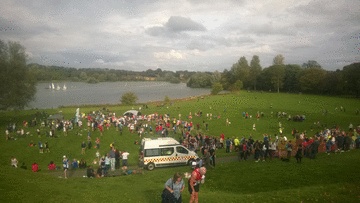 Story as usual was slowly drifting forward past people through the race. By 3km my quads felt pretty trashed but "only 2k until it's only 5k" seemed to work to reassure me. The race winds around some roads initially (undulating, as per prior description) before going around a gravel track around the loch. I picked up maybe one place around the loch, and pulled forward to the next guy as we turned around the corner uphill onto the road. On the one hand I didn't really feel like I had much 'zip' or motivation to run too hard, on the other it didn't seem too much effort to keep pushing on and try to run down the next couple of guys.
Never really sure whether to try to overtake going up or down, not sure I made a decision there.
Happy to hit the 9km mark. I was a little less enthused when seeing my shoe had become untied. This time I decided not to stop to retie and just pressed on to the end. I think it went OK, I never ended up on the ground…
Happy to finish under 36 minutes (35:56 or so).