Highland Perthshire Marathon
The last week of training before tapering for the St Oswald's Ultra. I had entered the Highland Perthshire Marathon some time ago, and after entering the ultra it was designated as the 'last long run'. After the Hawick 10k on Sunday, it seemed to make sense to skip Tuesday/Thursday speed sessions in favour of a 5k in the Meadows on Wednesday, so this week we have 2 race reports for the price of one.
Self-Transcendence Meadows 5k
After a big 10k PB on Sunday clearly I was in good shape. I didn't really know how the legs would hold up but I was going to run hard and find out. Incidentally I hadn't run a non-parkrun 5k this year so it I wanted to put down a time.
As usual people go off quick at the start of a 5k, and I tried to stick a balance of running hard from the start and not getting caught up. Seemed like things were going to plan, but even hanging back I started too fast. I felt good through the first mile, but heard something like 5:12 shouted as I hit the end of the first (mile) lap. Uh-oh.
The low point hit as I rounded the corner by the tennis courts towards the end of the 2nd lap. Not only did it seem a long way to the finish line now, there was a lap to go first… Anyway I had someone to chase and chasers of my own so I pushed on. By the third lap it's just about trying not to slow down and ignoring the signals from the legs. Think about form.
Lost a place in the last half to the same clubmate I was chasing on Sunday, but the fight for it pulled me around in better time. 16:27, a 5k PB by almost 30 seconds (6th place).
So did I lose time by going out too hard? Actually think that my legs still weren't fresh from the 10k, and I was always going to fade rather than getting stronger through the run.
Highland Perthshire Marathon
I took Friday afternoon off work to head up to Aberfeldy prior to the race by train and bus. Due to a combination of poor route selection, some out of date timetables and delays it took some time to get there, but eventually I arrived, registered, ate free pasta and put my somewhat neglected tent up while there was daylight. (Free camping was nice.)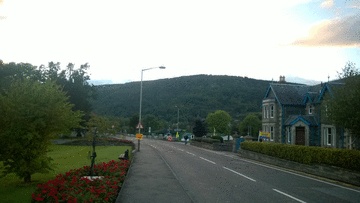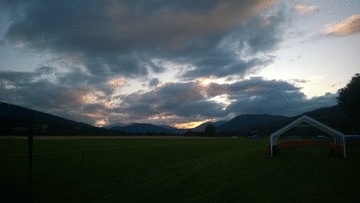 Having settled in I headed in to town for a beer intending to spend a while reading my book. I wasn't quite sure which of Aberfeldy's establishments to frequent but ended up listening to some live folk music. Not bad, though the rowdy crowd at the bar rather drowned out the music. (Turns out that I knew someone else who was there, which I only found out the next night in Edinburgh…)
Morning dawned (as it tends to) and it was time to get sorted for the race. The start was at Weem with the finish at Aberfeldy in order to make the loop distance work out - and this was all a rather strange experience for me, as the entire weekend was spent in places I knew from childhood visits to grandparents re-experienced in a new context.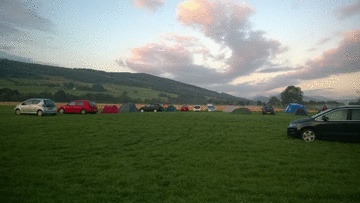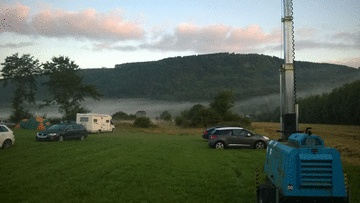 Anyway 9.30 rolled around and we set off from Weem. The plan was to run something around 3:00, not worry about hitting that if it wasn't coming easy, but still more towards the 'good effort' side of the scale than 'training run', just making sure not to risk injury or taking too much out of myself. (Looking back it seems as if I was sandbagging but really, steady run and go around 3h was the plan).
As we set off I tried to settle into the right sort of pace, checking and re-checking my watch as we went and waiting to have enough distance in to get a little accuracy. I could see one figure moving off into the distance, and a couple of guys moving at a slightly faster pace - one of them Mike Anderson of Corstorphine, who I'd spoken to before the race. I seemed to fall into a group of about 5 who were pretty much running exactly my pace, which is maybe not surprising as they were targeting a sub-3 time.
It was a two lap course, and as usual the first part of the first lap was just steady, easy running. Pace was slightly faster than 3:00 pace but not too far off. The route was on open (but quiet) roads, following a big loop which naturally goes up one side of the valley and down the other. I made a point of taking in the sights on the first lap, to save myself the bother the next time around…. I'm not very good at playing the tourist when it comes to country houses and castles, so running through Taymouth Castle estate twice worked well for me.

The route really had one hill to speak of, and at the easy effort it was nothing the first time around - honestly it felt like a bit of a pick-me-up, I actually felt better for it. After that it seemed like a lot of downhill, before a little bit of hill into town, and back around for a second go. During some of this easy running towards town I thought to split from the group and stretch my legs out a bit, and was catching up to a lone runner ahead, but in the end I pulled the group along to him and he was 'absorbed'.
I thought at the time the half way split was something around 1:28, but looking at my Strava just now it looks more like 1:26:30. Clearly someone would blow up.
As we went through Weem again, and on past Dull, I started to realise there was a gradual incline at the start, but things were still going OK, still in a tight group and having the odd word. Just after Dull, I had one of the most exciting racing experiences - the road was blocked from one side to the other by a flock of sheep being moved between fields. We were running head on, and the farmer was shouting "just keep on running", and we did, straight towards them. Fortunately the sheepdogs were experts and we had a clear path along the side of the road when we came close. It certainly put a smile on the face, an experience you won't get in your big city marathons.
As we turned into the valley for the 2nd time I seemed to naturally break ahead when passing a water station, and I wanted to take the opportunity to run alone and get some peace. I did manage to stay ahead, but with a gradual incline I felt I was tiring for the first (and only) time in the race, and started to worry about being rejoined by those behind me. I persevered with that thought in my mind, keeping to the original 4:15/km planned pace rather than the faster 4:07 or so my watch was showing my average to that point.
Anyway from about 20 miles I was feeling good again, and the 2nd run through the castle estate was enjoyable. I'd even say, and this is bizarre for me, the 2nd ascent of the hill felt really good. I felt strong, invigorated. At this point I was starting to pass slow half-marathon runners (which was a 1-loop of the course starting 1/2h later). I felt a little guilty springing up the hill as they walked up an apparent mountain.
After a good uphill effort, the pace naturally picked up on the down, and I decided to go all out to see what I could do for the last 4 miles (the course was marked in miles). I felt really good, it feels unbelievably good to pick up the pace significantly after 20+ miles and feel strong. Anyway I think I passed 1 guy, then saw Mike's Corstorphine vest ahead and decided to chase that, ducking around the half-marathon runners who were becoming more and more frequent, and having some interesting car-based experiences. When I did catch up to Mike I think there was initially 2 cars stuck between us waiting for an opportunity to overtake, a very odd experience which was repeated a few times on the way back into town.
I said a few words as I passed by, and I'm always a bit conflicted in this situation in a race - if you pass someone you know or were talking to earlier it would be rude to ignore them, but then if you overtake sounding too chipper or conversational it's not right either. Anyway it turns out Mike was in 4th place, though I didn't know it at the time. I continued to press into town, on windy slightly up and down-y roads, around slower half-marathon runners, just trying to see what was left in the legs.
I saw ahead an older guy who had been running shirtless, who I determined to pass at least on that basis, if no other. This was coming up to a mile to go, and I passed him into 3rd place within the last mile, and pushed on into town (looking at results I then made a full minute in the last mile). I'm usually nervous so late in a race, as it's easy to misread directions and be unsure of turns in town, when the event center is close and there are marshalls and people everywhere. There comes the advantage of a lap course…
Official finish time: 2:52:43 - 3rd place. Strava
I think 2 of that '3 hour' group which was ahead of pace made it. I feel guilty for maybe contributing to people blowing themselves up but you run your own run. Selfishly it was good to have a group to keep me back for the 1st half…
In a slightly confusing and amusing awards ceremony, I found out the winner had an impressive solo run for a 2:34:49. In the approximate words of the announcer, "congratulations on first prize, though there aren't any prizes". (I don't have a problem with no prizes, but then it's not called a prize!)
Due to lack of coordination with announcer and photography, the lack of anything to present (there were stand-in medal boxes which were not handed over as I think they will be engraved), and the unusual decision of awarding both the Open and then Senior categories separately (so I won 3rd then 2nd…), there was much walking back and forth, some hand-shaking and looking confused, at least on my part.
Overall verdict: A great course, the surroundings are really picturesque, the route is very logical (one big loop, albeit twice, with no outing and backing of any sort), and yet I think really quite fast. But then I liked the hill - the rest was a lot of gradual ups, so that the course felt like it was more often going down or flat. Organisation was good: they could do with learning how to run a water station, the marshalling was great. I guess the announcing was somewhat esoteric, at one point we heard something to the tune of "I'm in the toilet, but I can announce that so-and-so has just crossed the line" and some other choice remarks.
Footnote
Well that was far too wordy. I hate to think what an ultra report will be like…