After 5 weeks of decent mileage since 7 hills, the last 2 just over the 100 mile line, this was to be a week of racing. A number of EAC club-mates were going to the Haddington half-marathon, so I signed for that, and unlike last year I noticed the North Berwick Law race was coming up, having enjoyed this in 2012 I didn't want to miss it.
North Berwick Law Race
Easy running but decent mileage through the first half of the week and it was Wednesday evening, off on the train to North Berwick for the Law race. I arrived in plenty of time (with trains it is always plenty of time or cutting it fine…) and took a half hour warmup down the beach.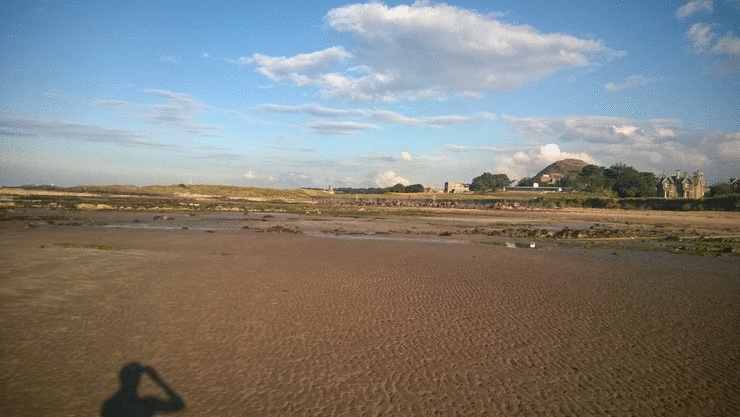 The race started quick up the road. I thought I was simply not fast enough as the pack went flying off until I noticed even the bearded figure of Donald Naylor (who went on to win comfortably) wasn't sprinting off so rashly. After squeezing through the gate and meandering through the park to the roads, I was able to steadily push forward and pick up some places, so that I would have been just out of the top 10 at the bottom of the hill.
My legs told me that I went out too fast, surely I could not keep pushing, but the hill itself was a chance to call on some different muscles and ascend hands-on-knees style. Races always feel hard but the uphill felt easier than last time around. All the same, it's not my forté, and I probably lost a place or two on the up, and certainly lost 3 places on the down. The 3 places were regained on the flat trail before we even regained the road, albeit I had to check with one of the guys where the turn was. As for those ahead, I put in as fast a pace as I could muster downhill through the town, and even a good fast finish, but there was never a chance of catching up. Finished 12th in 21:15 (23:01 in 2012).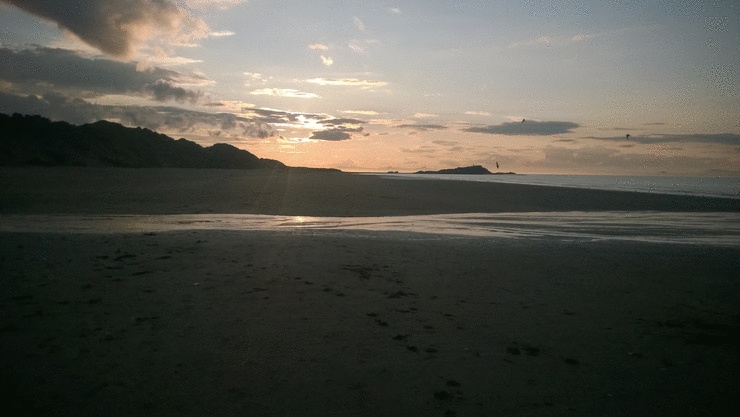 After consulting timetables and considering my training week I went out for another beach run post-race (nourished by a quick steak roll at the finish line). About an hour, and in many ways this expanded beach run session was more challenging than the race, and just as enjoyable. I was rewarded with some lovely sunset views of the coast and the Law itself. This stretch of coastline really is beautiful.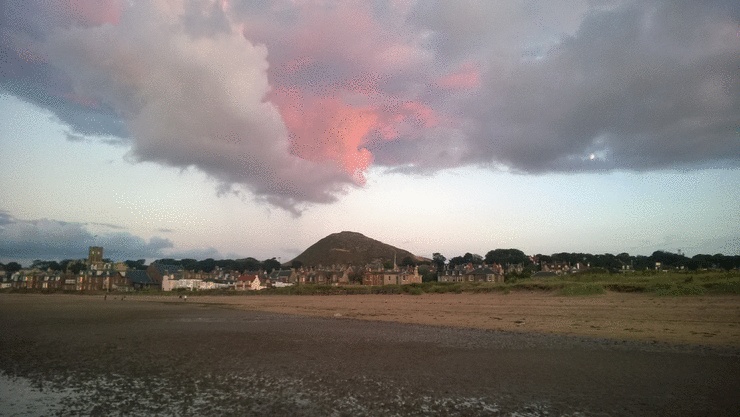 Magic Mile
I was reminded on Thursday of the EAC event for Marathon Talk's Magic Mile. I couldn't fail to support this, after all mile racing is a key part of my 100M training. I intended to run this pretty hard but maybe not quite 100% all out, and after my usual slowish start went around feeling pretty good - definitely feeling like a time trial as I had no chance of catching the front 2. Then as I felt a presence behind me on the final straight, it was an all out sprint to the line (and once again scraping under 5). A few steady paced longer efforts afterwards made for a fine session.
Haddington Half
Saturday morning I went for my usual run at Edinburgh parkrun. As a concession to sanity I took the bus there, didn't warm up, and went around about 20:00 pace. Saying that, when I hit the last km and found myself in touching distance of a group ahead, I felt I had to crank the pace up a little for the finish.
In the afternoon was Haddington. I had gratefully accepted/begged a lift prior, so my mind was clear of logistics. To be honest I had been trying not to think about the race at all, since my perceived effort of the Inverness Half earlier in the year (and my crazy good performance) has been making me scared to contemplate a half since. Training through this one was a good opportunity to break that mental barrier (and I think it worked nicely).
The race came around and I went off maybe a little quickly. I found myself a few miles in with some faster club-mates, feeling good initially. Then a turn uphill into the wind and I was losing contact. That was the lasting impression of the race, uphill into the wind.
The middle miles were a little taxing, my legs lacking that 'zip' and constantly finding myself alone against the wind. I'd work my way up to a runner or pair, feel like I wasn't gaining much benefit from the wind behind them and then move on past as the pace didn't seem quick enough. I'm no great fan of hills (certainly a weakness) but the 'undulating' course didn't seem too daunting by comparison.
Again 8 miles or so seems in sight of the end (and the numbers always seem so much more reassuring in a half than a marathon!) and I felt like I was pushing a bit harder, moving past people. Sadly a stitch afflicted me for a couple of miles (maybe I passed too quickly), and I saw another EAC vest fly past uphill with a smile…
Anyway pushed on hard to the end feeling tired but strong, for 1:19:45. Full five minutes slower than my PB, maybe give it 90s for the course and 30s for the wind, 60s for high mileage/not tapering - I'd still rather have seen 1:18. Still, it felt decent and think I've beaten my mental block on the half.
The day after
As I was 'training through' the races this week I was still heading out for my normal long run, something about 30k. I'm not sure if it was indicative of not pushing hard enough at Haddington or the benefits of high mileage on recovery but a steady run felt good.